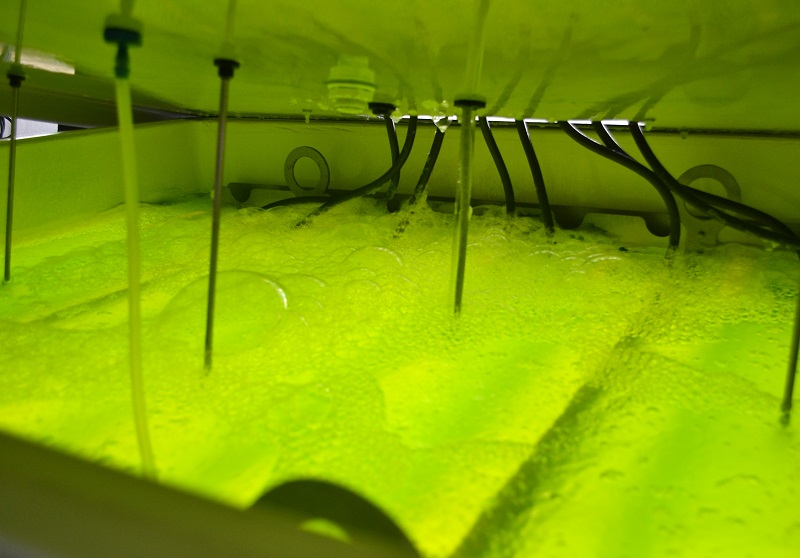 ASLEE reached another major milestone in production of microalgae. Algal cultivation work began in June 2016 using 1L PBRs and has now progressed to production in a 600L Pandora PBR. This huge leap has allowed Xanthella to begin investigating mass cultivation of microalgae. The novel, internally illuminated Pandora photobioreactor (PBR) which has been designed, developed and built by Xanthella, contains a series of submersible and completely bespoke light emitting diode (LED) light sheets. The highly controlled and short light path properties of the submerged light sheets make the Pandora PBR a world leader. Furthermore, it is possible to have a range of specific wavelength LEDs in the light sheets to suit different applications and growth requirements.
Power load to the LED lighting can be automatically and rapidly adjusted using the specially designed Zeus Control System and innovative VCharge software. The integrated controls allow the power to be turned off and on or up and down almost instantaneously in response to changes in grid frequency. The next steps are to examine the growth and productivity of the algae in the large volume Pandora PBR and assess how the light sheets function as a transactive load for grid balancing. 
The unique combination of microalgal manufacturing with intermittent light from locally produced renewable electricity is the highly innovative aspect of the ASLEE project. Determining how these elements come together at scale will be the focus of the next few months.